UB Super – Super plant based proteins and then some
Since I have decided to start eating healthier, I continue my search for products that can help me accomplish this. When I look at a product, I usually like to try it first before I recommend it to anyone. Unfortunately, if I did that, I would gain a lot of weight back that I have lost. Even if the products are healthy, there is no sense in consuming all the extra calories.
In some cases, when a product is recommended by someone that I know and trust their judgment, I will write a review. This is one of those products.
As I researched UB Super, I liked what I found and want to share it with you.
Products: UB Super Superfood Nutritional Shake and Plant Based Protein Smoothie
Where to buy: UB Super
My Rating: 8.5 out of 10
I have included some of my affiliate links in this review to allow you to get more information or to purchase the products.
Who is UB Super?

UB Super was founded by Scott Kanyok. Scott was injured during a long-distance bike ride and would easily get sick after the accident. He wanted to find something that would boost his immune system and promote overall health.
During his four-year search, he met Dr. Jason Mitchell. Dr Mitchell was the Chief Science Office at Country Life Vitamins. With Dr. Mitchell's help, Scott created a line of health products that are now UB Super.
What is UB Super Superfood Nutritional Shake?
UB Super Superfood Nutritional shake is a grass-fed whey/collagen protein superfood nutritional shake. IT comes in vanilla or chocolate flavors. This is designed to promote a healthy lifestyle and boost our immune system.
The shake can be a part of any healthy diet or used as a meal replacement. There are many benefits to using this.
Why use UB Super nutritional shake?
UB Super's complete, convenient, holistic nutrition formula provides:
Non-GMO, grass-fed pasture raised rBGH free Whey and collagen, organic Salba® chia seed, organic hemp protein and organic flax seed
Rich phytonutrients and antioxidants from the highest quality globally sourced organic superfoods found in nature
Organic vitamins your body needs each day to thrive
Fulvic minerals/acid to support complete body health
Pre- and probiotics with digestive enzymes for digestive support
Hyaluronic acid to support skin and joints
What are some ingredients and their benefits?
What is UB Super Plant-Based Protein Smoothie?
The plant-based smoothie coming in vanilla, chocolate, and natural flavors. This is a great way to start your day with a dairy-free, superfood-rich smoothie.
Branched Chain Amino Acids (BCAA) to support recovery & repair
B12 Methylcobalamin for energy and cognitive health
Organic Biotin for strong hair and nails, as well as lasting energy
Organic Maca for energy and hormone health
Fulvic minerals/acid for nutrient absorption, energy, and brain health
Pre-Probiotics w/digestive enzyme blend for digestion and immunity, as well as healthy cognition
Vegan Hyaluronic Acid for gorgeous skin and healthy joints
Superfoods for immune health and antioxidant protection
Vitamin C from Acerola Cherry to fight free radical damage and oxidative stress
Natural Fiber to satisfy hunger and support blood sugar
Omega Fatty Acids for overall health and wellness
What are the Plant-Based Proteins?
The smoothie contains 5 plant-based proteins:
Pea – can aid in weight loss, promotes blood pressure, heart, and kidney health. (source)
Organic hemp – promotes cardiovascular health, contains fatty acids, and promotes skin health. (source)
Organic flax seed – contain omega 3s and considered an antioxidant. They are a natural way to promote weight loss since they are high in fiber and will aid in digestion.
Organic pumpkin seed – rich in omega 3's, promotes heart health, linked to reduce certain types of cancers, loaded with antioxidants, high in fiber, and can help lower blood pressure. (source)
What I like About
UB Super has created a product line of plant-based proteins, all natural and organic ingredients.
These are very affordable, especially considering the high quality of the products.
Lots of positive reviews on their site
Free shipping from directly from them if you purchase $200 or more
What I do not like
Free shipping with purchase of $200. To me this is a little high, in my mind it should be half that, especially if you subscribe. The lower cost of the products could make this difficult.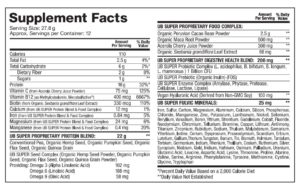 Conclusion
As you have seen, both of these UB Super products have a lot of potential benefits for anyone looking to have a healthier or more active lifestyle. The quality of the ingredients and all the benefits they bring with them, can help anyone. That's why I have given them an 8.5 out of 10.
Click here for more information or to purchase from UB Super. If you have an Amazon prime account, click here.
If you have any concerns, talk to your doctor, especially if you on taking any medications since certain natural ingredients may interact with some medications. I know this is a general statement, but it's always best to be sure when trying something new.
When you do try either of these, or if you already have, please leave a comment here to help others know what your experience was. Good or bad.
Thank you for reading,
Jim