We have all seen ads on TV, the internet, in magazines, or in other places that promote dieting products.
Is SkinnyFit just another one of those that make empty promises or do people get real results from their products? Hopefully, the information I have provided will help you make an informed decision for yourself.
I will provide information on six SkinnyFit products. You may click on any of the products displayed in this article and my affiliate links will take you to Amazon. There are hundreds of reviews on the different SkinnyFit products, some very favorable and some not. ..
I have included some of my affiliate links in this review to allow you to get more information or to purchase the products.
SkinnyFit Detox Tea
This is a tea that will detox and flush toxins from your body. It is designed to reduce bloating and suppress your appetite. The tea is made from all-natural ingredients that will increase your metabolism and energy.
This will also cleanse build-up from your colon and aid with digestion. Cleansing your colon is the first step to any weight loss plan. You will feel much better and see a difference in the appearance of your skin. For more information on a cleanse, see my article "What is a cleanse".
There are 13 superfood ingredients in the detox tea:
Matcha Green Tea
Yerba Mate
Sencha Green Tea
Oolong Tea
Goji Berries
Milk Thistle
Ginseng
Lemongrass
Nettle Leaf
Dandelion Leaf
Guarana
Stevia Leaf
Peach Powder
What I like about the detox tea:
4.5 out of 5 stars.
The 13 superfood ingredients have many benefits and can work well together
The product is all-natural, vegan, gluten-free, dairy-free, soy-free, and non-GMO
It's simple and easy to use.
Has less than 18 mg of plant-based caffeine.
There is no Senna in it. Other detox or diet products contain Senna as a laxative.
There is a 30-day money-back guarantee.
What I do not like:
When reading some of the customer comments on Amazon, I noticed several that complained about the amount of tea in each bag.
You can save 5% if you purchase on a subscription basis. I do not like the idea of a subscription for a detox product. Granted with all the benefits, why should you detox continuously?
Compared to other calming or detox teas, is it worth the price?
SkinnyFit ZzzTox Nighttime Detox Blend
The Nighttime Detox Blend is designed to help you detox while you sleep. It will also help reduce or eliminate those late-night cravings and increase your metabolism.
The ingredients include Roobios leaf, Chamomile Flower, Lavender Buds, Natural Vanilla Flavor, Lemon Balm Leaf, Peppermint Leaf, Cornflower, and Valerian Root.
These ingredients should help you wind down from a long day and let you get a good night's rest. I personally like teas in the evening with some of these ingredients.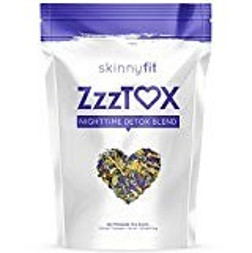 What I like about SkinnyFit ZzzTox
4.9 out of 5 stars
It's simple to use
The product is all-natural, vegan, gluten-free, dairy-free, soy-free, and non-GMO
Many people have commented on how much they like the taste
The blend of ingredients does have a calming effect and helps you relax
The product is all-natural, vegan, gluten-free, dairy-free, soy-free, and non-GMO
What I do not like:
There were a few that did not like the taste and it did not help them to relax.
This blend does have the right ingredients known to promote healthier skin.
It appears to be good for promoting joint health.
SkinnyFit Super Youth
Super Youth Multi Collagen promotes healthy bones, and joints, and has great digestive benefits. It provides nourishment to skin, hair, and nails. This will help increase metabolism to burn excess fat.
The ingredients are: Hydrolyzed Bovine Collagen Peptides, Bovine Bone Broth Hydrolyzed Protein, Hydrolyzed Fish Collagen Peptides, Chicken Bone Broth Collagen Concentrate, and Eggshell Membrane Collagen.
What I like about Super Youth:
The product is all-natural, vegan, gluten-free, dairy-free, soy-free, and non-GMO
What I do not like:
This may have a slight taste and can leave a residue if not properly mixed.
SkinnyFit Hunger Buster
Hunger Buster will curve cravings and help you feel fuller. Increases energy and boosts metabolism.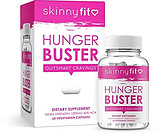 The ingredients are Hydroxycitric Acid (HCA), Chromium Amino Acid Chelate, & Calcium Carbonate.
What I like about Hunger Buster:
The product is all-natural, vegan, gluten-free, dairy-free, soy-free, and non-GMO
What I do not like:
Not many comments on this at this time, and it only received 2.2 out of 5 for rating.
SkinnyFit Belly Balance
Belly Balance contains a multi-strain probiotic and prebiotics, which promotes stomach health. This can help with bloating, constipation, and irritable bowel syndrome. It helps with stress and enhances your mood.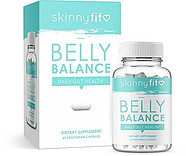 The ingredients are Calcium Carbonate, Psyllium Seed Husks, Alfalfa (stem & leaf), Oat Seed, Lactobacillus acidophilus, Rhubarb (root), Gentian (root), Aloe Vera (leaf), Cascara sagrada (bark), Goldenseal (root), and Buckthorn (root) powders.
What I like about Belly Balance:
4.8 out of 5 stars
Both a probiotic and prebiotics. This is better for digestion and your stomach.
The product is all-natural, vegan, gluten-free, dairy-free, soy-free, and non-GMO
What I do not like:
This product had negative effects on their digestion system such as bloating or gas.
SkinnyFit Daily Glow
Daily Glow fights aging skin and weak brittle hair. It can help the body
The ingredients are Ascorbic Acid (Vitamin C), dl-Alpha Tocopherol (Vitamin E), Niacinamide (Vitamin B3), Pyridoxine HCI (Vitamin B6), Biotin, Calcium D-Pantothenate (Vitamin B5), Zinc, Kelp Powder, Inositol, Bamboo Extract (70% silica).
What I like about Daily Glow:
The product is all-natural, vegan, gluten-free, dairy-free, soy-free, and non-GMO
What I do not like
3.6 out of 5 stars, I was unable to find many people who have tried this one
Final Thoughts
They are using ingredients that have well-known properties and they appear to be using them to benefit their customers. I like the all-natural approach.
The products are targeting adults and do have a disclaimer for those who should not be using them.
There are just a few things that concern me with SkinnyFit, there is very little information about how the company started and who is behind it.
Most of the testimonials on their website have pictures of celebrities, athletes, their own challenge winners, and a few others. To me, just not a lot of normal everyday people.
Since it's sold on Amazon and has a money-back guarantee. It might be worth a try, but you will have to decide if it is or is not for you.
Remember, when you do try a new product, always read and follow the directions. If you have any problems or concerns, ask your doctor.
These are only six of the many products they have. For current pricing and additional product information, click here to check them out on Amazon.
If you have tried any of the SkinnyFit products, please leave a comment below on what your experience was. Also, feel free to leave any questions or comments.
Thank you for reading and here is a Pin you can share with your friends on Pinterest.