If you are always looking for new ways to look after your skin and make sure that you are getting the most out of your skincare routine, you might have come across something called the oil cleansing method. 
This might sound like a method that isn't suitable for oily skin types, however, it could be just what your skin needs. Below, we will take a look at everything you need to know about the oil cleansing method. 
What Is The Oil Cleansing Method?
In simple terms, the oil cleansing method is a means of cleansing the skin using oil instead of soap. 
This might sound like it would be counterproductive, but it is actually surprisingly effective. Best of all, it works on all skin types.  
Another great thing about this method is that almost any type of oil can be used for this method so you can adjust it to suit your skin and get the best results. 
There are a few different techniques that can be used for the oil cleansing method. The technique that you use will depend on the oil and other ingredients that you use
Who Is The Oil Cleansing Method For?
As we briefly mentioned above, the oil cleansing method can be used by almost any skin type. The most important thing to consider when starting the oil cleansing method is the type of oil that is going to benefit your skin the most.  
If you are unsure which oil will work best for your skin, especially if you have sensitive skin, it is best to do a patch test of any oils that you are planning on using.  
It is important to note that if you have never used oil on your skin before, there might be a small adjustment period when beginning to implement this cleansing method. 
Therefore, it isn't a good idea to use this method for the first time just before a big or important event.
What Are The Benefits Of The Oil Cleansing Method?
Using oil to cleanse your skin sounds like it would be counterintuitive, however, it holds multiple benefits for the health of your skin.  
Oil is particularly good at breaking down products and makeup that have been sitting on your skin all day.  This is especially true for waterproof makeup. 
The oil works to break down the product and lift it from your skin, making it easy to remove fully. This leaves your skin completely free from products. 
Oil is also great for removing sweat and dirt that are sitting on top of your skin. These are things that can block pores and cause blemishes and pimples. 
The oil works to lift them from the skin and remove them with the cleansing method.  
The oil cleansing method can also help to combat small signs of aging such as fine lines and wrinkles. It does this by providing intense moisture to your skin, even when the excess has been removed. 
This can help to prevent excessive oil production in your skin which can lead to oily skin and excess sebum.  
What Oils Are Good For The Oil Cleansing Method?
Almost any oil can be used for the oil cleansing process, however, it is important to stay away from food-grade oils as these can end up clogging your pores more. Instead, cold-pressed, virgin oils are best.  
Some of the most popular choices for oil cleansing include coconut oil, avocado oil, almond oil, caster oil, hemp oil, olive oil, and jojoba oil. 
There are others that can be used and even blends of oils can work well depending on your skin sensitivities.  
The most important thing to remember when choosing an oil for an oil cleanse is that you select an oil that is as natural and pure as possible.
This will reduce the chance of negative effects or reactions on your skin and make the cleanse as effective as possible. 
How To Complete The Oil Cleansing Method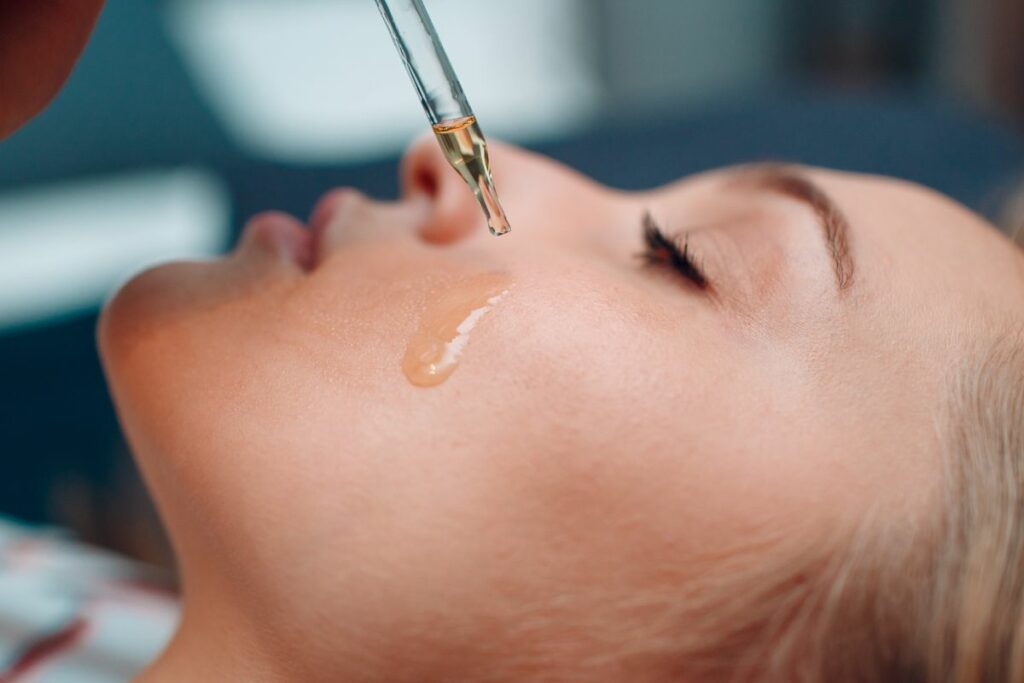 There are a few different methods that you can use to complete the oil cleansing method. 
The method that you choose will depend on the oil that you are using, your skin type, and the results that you are looking for from the cleanse. 
Below are some methods that are perfect to get started with oil cleansing. 
Traditional Oil Cleansing Method
If you are a minimalist when it comes to skincare, this is the oil-cleansing method for you. It is also a great option for anyone with sensitive or reactive skin because it uses very few products and is all-natural.  
You will need to use an oil like the ones that are mentioned above. Using a single oil rather than a blend can help protect your skin and make the transition to oil cleansing easier and smoother. 
You should begin the cleanse with dry skin, oil, and water don't mix so dampening your face first will affect the effectiveness of the cleanse. Massage a nickel-sized amount of oil into your skin. 
Remember that gentle motions are best with your skin.  Continue to use circular, upward motions until all makeup, sunscreen, and other dirt have been removed.  
If you begin the cleanse with makeup on your face, you should now remove the first layer of oil with a warm, damp, washcloth. If you didn't begin with makeup on, you can skip this step. 
If you have removed the first layer of oil, you should apply a little bit more oil to your skin and begin to massage it. 
Make sure to pay extra attention to the areas that suffer from congestion in the form of plugs of sebum and blackheads. Make sure that you don't massage for more than 60 seconds to avoid irritating your skin.
Once the sebum plugs and blackheads have been removed with the second round of massage, you need to remove everything from your skin. 
Muslins and microfiber washcloths are best for this because they are soft and gentle. It is important to make sure that you are using a clean cloth each time you do this.  
Dampen the cloth with warm water to remove the oil.  Pressing or dabbing can work better than wiping sometimes.
Double Cleansing Method
The double cleansing method is perfect for anyone who is looking to remove a full face of makeup from their skin. It adds an extra layer of cleansing to leave completely clear skin. 
This method begins the same way as the traditional cleansing method. Apply a nickel-sized amount of oil to your dry face. Gently massage it in until all makeup has been lifted from the skin.  
Remove the first layer of oil from your skin with a clean muslin or washcloth. Then splash your face with water to help remove all traces of the oil. 
Then, begin to cleanse your face with a low-pH, detergent-based cleanser. Massage it into your skin and then rinse it away. Apply a gentle moisturizer as normal.
Final Thoughts
Oil cleansing might seem scary if you have never used oil in your skincare routine, however, it has so many benefits for your skin. 
Implementing this routine regularly can help to keep your skin in the best condition possible.  
Some Of The Better Oil Cleansers To Check Out
DHC Deep Cleansing Oil and Travel Size, Facial Cleansing Oil, Makeup Remover, Cleanses without Clogging Pores, Residue-Free, Fragrance and Colorant Free, All Skin Types, 6.7 fl. oz. and 1 fl. oz.
The Face Shop Rice Water Bright Light Face Cleansing Foam & 3 Piece Set | Refreshing Face Wash for All Skin Types | Double Cleanse Set | Makeup & Dead Skin Removal, Hydrating & Brightening
ANUA Heartleaf Pore Control Cleansing Oil Korean Facial Cleanser, Daily Makeup Blackheads Removal 6.76 fl oz(200ml)