Diabetes is a life-changing but manageable disease as long as you consume the right food and watch your weight.
If you want to lose weight, then you might consider following a SlimFast plan. But is SlimFast good for diabetics?
There is a lot of debate around the health benefits of SlimFast for people with type 2 and 1 diabetes. While losing and maintaining a healthy weight allows you to control your blood sugar, the amount of sugar in SlimFast can lead to complications.
We take a closer look at all the things you need to look out for if you are diabetic and want to use SlimFast for your diet.
Is SlimFast Safe For People With Diabetes?
SlimFast says that its shakes are safe for people with Type 2 diabetes. 
However, these shakes can contain a significant amount of sugar, so it is important for people with diabetes to carefully integrate these drinks into their normal diet.
On their website, SlimFast advises that their products, including the SlimFast® Plan, have been tested in 50 clinical studies.
Some of these studies indicate that SlimFast allows you to stabilize and control your blood sugar levels easier with their weight loss program.
SlimFast And Type 2 Diabetes
If you want to lose weight but have Type 2 diabetes, then you need to carefully watch your diet and how much sugar you consume with each meal.
SlimFast states that their products only contain 1g of sugar and studies have shown that they allow you to maintain blood sugar levels.
While the company advises that people with Type 2 diabetes can start their weight loss journey without consulting their doctor, it is best to check with your healthcare professional before you make any changes to your diet.
Even smaller adjustments in your diet can have a significant impact on your blood sugar level, so it can be a good idea to check in with your doctor.
SlimFast And Type 1 Diabetes
If you have Type 1 diabetes and you need insulin or other medication, then it is vital to speak to your doctor before you make any changes in what you eat.
Your healthcare practitioner may also need to adjust your medication or the insulin dose if you lose weight, so it is important to check in with your doctor regularly.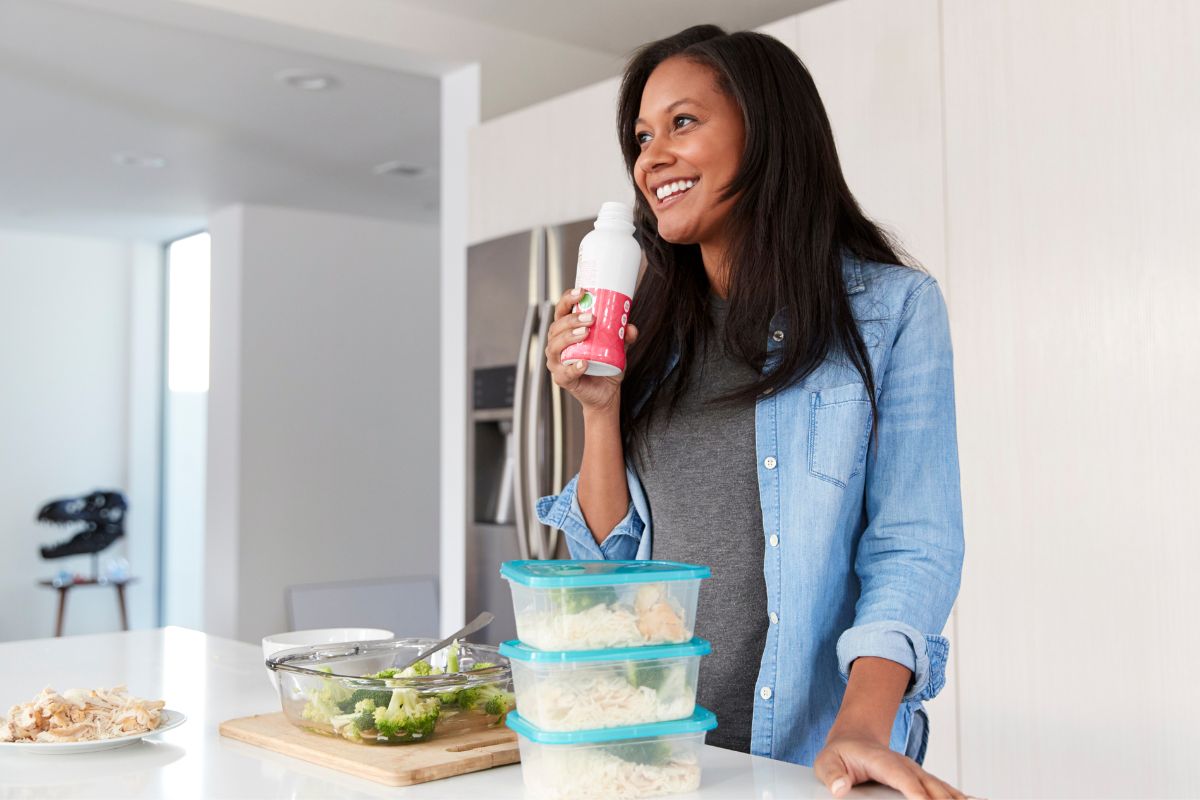 Can You Use SlimFast With Diabetes Medication?
No matter what type of medication you use, your doctor needs to adjust the dose if you lose weight. As a different diet and less weight alter your metabolism, your medication needs to be adjusted accordingly.
This is the reason why it is essential to consult your doctor before you start SlimFast or any other weight loss program.
What To Look For When Using SlimFast With Diabetes
While SlimFast can be a great way to help you lose weight, you need to carefully check the ingredients of what you consume as part of your weight loss diet.
Here are a few tips and what to consider if you have diabetes and you want to shed some pounds with SlimFast shakes or bars.
Check With Your Doctor
Even small changes in your diet can have a significant impact on your blood sugar levels and medication you might take for your diabetes.
This is why it is important that you check in with your healthcare provider and discuss potential changes in the dosage of your medication.
Regularly Check Your Blood Sugar Levels
You might already do this already if you have diabetes but when you try out new foods, then you need to check how they impact your blood sugar.
Everyone is individual and different foods can impact people with diabetes in different ways. That is why, when you start a SlimFast program, make sure to keep a note of your blood sugar.
Don't Substitute A Healthy Diet
SlimFast should not replace a healthy diet with vegetables and fruit. Although SlimFast tries to include fiber and carbohydrates in its products, the amounts are minimal compared to a well-balanced diet.
Choose SlimFast Diabetic Weight Loss Without Added Sugar
SlimFast also makes specific weight loss products for diabetics. They don't contain any added sugars but more fat, fiber, and slow carbs.
This can help you manage your blood sugar better during the weight loss program. This being said, for both the shake mixes and diabetic chocolate bars, the right amount is key.
As long as you only consume the amount that helps you lose weight and balance it with fresh fruit and vegetables, you can lose weight even with a serious illness such as diabetes.
This diabetes-friendly meal replacement shake from SlimFast comes in vanilla and chocolate flavors. It contains 1g of sugar, fat-free milk, 10g of fiber, and 11g of protein.
With 180 calories, it is relatively low in fat but you still get some essential nutrients that keep your hunger at bay.
While there is little sugar in these shake mixes, they contain artificial and natural sweeteners that can affect your glycemic levels.
You can choose from three flavors with these diabetes-friendly chocolate bars. The non-crunchy and soft texture makes them delicious.
These bars contain 24 essential vitamins and minerals, 9g fiber, 3g net carbs and 7g protein to satisfy your hunger throughout the day.
However, each SlimFast bar has 190 calories and 6g of sugar which is a significant amount for a snack.
Plus, these chocolate bars may also contain caffeine which can equally affect your cardiovascular system. They are also not suitable for a vegan and vegetarian diet because they contain milk.
Final Thoughts
SlimFast can be a great way for people without health problems to lose weight. However, if you have Type 1 or Type 2 diabetes, then you should consult your healthcare practitioner before you start a weight loss program.
Your doctor may need to adjust your medication or recommended diet according to the amount of weight you lose.
Other Articles To Read
9 Best Protein Shakes For Kids To Keep Fit – Protein shakes for kids have become more popular in recent years. In this post, we take a look at the best protein shakes the market has to offer your kids.
Which Shake Is The Best For Weight Loss? Weight Loss Shakes Explained – A shake can suppress your appetite with fewer calories. Here's all you need to know about which shake is the best for weight loss – weight-loss shakes explained
13 Best Oat Milk Protein Shakes To Keep Fit – Do you want to increase your protein intake? Find 13 fabulous protein shake recipes that are made with oat milk, covering a range of fantastic flavors.