How often do you hear someone say they want to start juicing? If you're looking to get started with juicing, you might be wondering where to begin. 
Juicing is a great way to consume fresh produce. It is also a simple way to add nutrients to your diet.
While some people prefer to drink their juices straight from the bottle, others enjoy blending them into smoothies or adding them to recipes.
The benefits include increased energy levels, better digestion, improved immune system function, and even weight loss.
But if you don't have access to a high-quality juicer, it can be difficult to reap these health benefits.
Luckily, there are many affordable options available today that will allow you to enjoy the benefits of juicing while saving money.
Below, you will find the best ways to juice without a juicer, as well as some fun and tasty recipes to try out the methods!
What To Use Instead Of A Juicer?
There are many ways to juice without a juicer. Here are just a few options.
Blender
Blending is a great alternative to juicing. Simply place your ingredients into a blender along with ice cubes and liquid. Blend until smooth.
Vitamix
A Vitamix is an electric blender that allows you to create delicious drinks using raw ingredients.
It works by forcing air into the food, which helps break down the fibers and increase the extraction rate.
Fine Mesh Strainer
This can be used in conjunction with a Blender or Vitamix and can be used in place of a sieve or colander to strain out the pulp from a juice or smoothie.
Simply pour the liquid through the strainer and discard any solids that remain.
How To Make Green Juice Without A Juicer?
If you don't have a juicer, fear not! As this is a great method for making green juice with a blender!
Directions
Wash all the greens thoroughly. Remove any tough stems or leaves that may not fit through your blender. Also, remove any wilted or damaged leaves.
Cut up the washed greens into smaller pieces. For example, if you use kale, cut it into small strips instead of chopping it.
Place the prepared greens into a blender. Add water until the mixture reaches the consistency you desire.
Blend on high for about 30 seconds. This will help release more of the juices from the greens.
Pour the blended juice into a glass container. Drink immediately.
Repeat steps 1-5 until you've used up all of your greens!
Enjoy your new favorite beverage!
Citrus And Vegetable Cleanse Juice
Citrus and vegetable cleanse juice is a popular option when trying to lose weight. This juice contains only citrus fruit and vegetables, and the best part: you don't need a juicer!
For this recipe, you'll need:
• 3 oranges (or 2 grapefruits)
• 4 carrots
• 5 stalks of celery
• 1/2 cucumber
• 1/2 lemon
• 1/2 lime
• 1/2 bunch of parsley
• 1 clove of garlic
• 1/2 teaspoon cayenne pepper
• 1/2 teaspoon salt
• 1/2 cup of water
• Ice
To prepare the juice, peel the orange(s), grapefruit(s), carrot(s), and cucumber. Then chop the fruit and veggies into bite-sized chunks.
Add the chopped fruit and veggies to a blender. Add the remaining ingredients, except for the ice. Blend until smooth. Serve over ice.
How To Make Fresh Fruit Smoothies With No Juicer?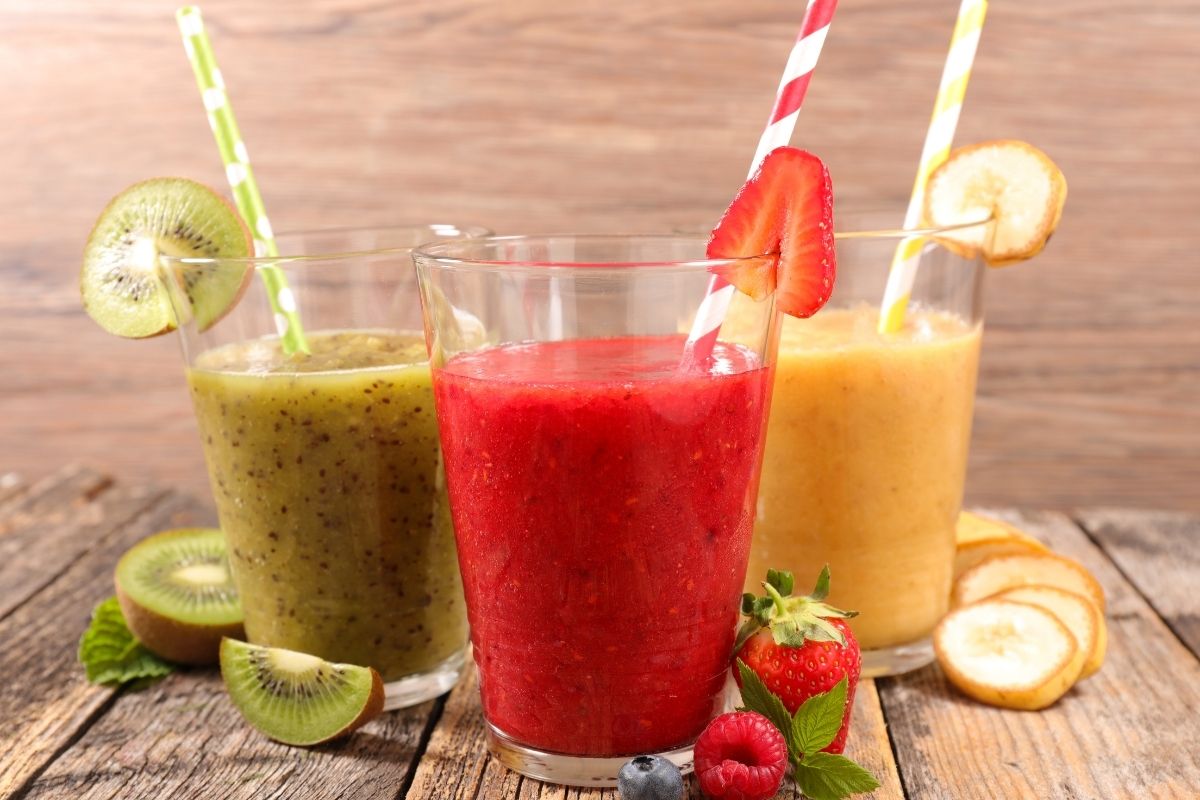 Smoothies are a great way to get healthy fruits and vegetables into your diet. They're easy to make, they're filling, and they taste amazing.
However, most people find it difficult to make fresh fruit smoothies at home because they require a lot of time and effort.
Fortunately, there are several methods that allow you to make fresh fruit smoothies without having to use a juicer.
Here are two of the best methods.
Juice Method
Place all the ingredients into a blender. Blend until smooth. If desired, add some ice cubes to cool the drink.
Blend Method
Place all the fruit and vegetables into a large bowl. Mash them together with a fork.
Pour the fruit mixture into a blender. Add the milk, yogurt, honey, vanilla extract, and spices. Blend until smooth. Add ice if desired.
Pineapple Apple + Kale Juice With Lemon
This pineapple apple + kale juice is a delicious treat. The combination of sweet pineapple and tart apples makes this juice refreshing and tasty.
Ingredients:
• 1 cup pineapple
• 1 cup apple
• 1 stalk celery
• 1/2 bunch of kale
• 1/2 tablespoon lemon juice
• 1/2 clove garlic
• Salt & Pepper
Directions
Cut the pineapple, apple, and celery into small pieces. Peel the skin off the apple. Chop the kale into small pieces.
In a blender, combine the pineapple, apple, celery, kale, garlic, lemon juice, and salt and pepper. Blend until smooth.
Enjoy your new favorite beverage!
Juicing Tips
As we know, making juices without a juicer can be a bit of a learning curve.
To make this easier for you, here are some of the most useful tips to help you juice your favorite drinks without a juicer! 
1. Use a spoon to mash the fruit and vegetables in a bowl before putting them in the blender.
2. Keep any leftover fruit and vegetables in an airtight container and place them in the refrigerator to use again!
3. Cut the fruit and vegetables into smaller pieces before blending.
4. You can also blend the fruit and vegetables in the food processor.
5. You can freeze the fruit and vegetables overnight and then thaw them before making a juice.
6. Try adding herbs and spices to your juice recipes.
Final Thoughts
Fresh fruit and vegetable juices are one of the healthiest drinks on earth. Making them yourself allows you to control what goes into them.
It's also fun to experiment with different combinations of fruits and vegetables. So go ahead and start experimenting with your own homemade juices today!