If you are looking to lose weight, you may have heard of Hyleys Slim Tea.
It is said to promote weight loss by helping to increase a person's metabolism, improve their digestion system, as well as detox the whole body from the inside out.
While these claims sound great, how can tea do such a thing? Hyleys Slim Tea uses a number of natural ingredients within the tea to increase your chances of losing weight.
Because of this, we shall be looking at what the ingredients are, as well as any potential side effects. 
If you are interested to know more about Hyleys Slim Tea, then read on to find out exactly what we think about this popular slimming tea.
What Actually Is Hyleys Slim Tea?
Hyleys Slim Tea is said to be a natural yet powerful weight loss tea with lots of antioxidants. It works by giving the consumer a laxative effect, meaning they need to go to the toilet more to empty their bowel.
This is because the tea includes an extract of the senna plant. This plant produces a natural laxative effect which has been used for years to treat chronic constipation.
It is a stimulant that causes a person to need the toilet – sometimes with urgency. 
However, Hyleys Slim Tea also claims to include lots of antioxidants due to being made from natural ingredients. It also includes caffeine too, due to its green tea version. 
You are meant to drink a cup of Hyleys Slim Tea before bedtime, however, people have stated that the tea has made them need the toilet within an hour or two.
This means that more often than not, people drink this tea in the morning. 
What Is The Story Behind Hyleys Slim Tea?
Hyleys began as a company in 1997 that worked alongside the tea plantations in Sri Lanka. They exported tea via mail order to places like America. 
However, there is no real history of how Hyleys Slim Tea came about. Even so, it was one of the first products created by Hyleys. They made the tea to emphasize the naturalness of the product. 
They still claim today that the product has 100 percent natural ingredients. This is because it includes a natural-based 'gentle' laxative, natural flavorings, and green tea. 
What Flavors Of Hyleys Slim Tea Are Available?
There are many flavors of Hyleys Slim Tea available. These include:
Mango, pomegranate, pineapple, goji berry, cranberry, acai berry, peach, blueberry, raspberry, and blackberry. 
Each one also includes green tea which is said to help a person lose weight over time. This is done by helping a person maintain their normal levels of metabolism when it comes to carbohydrates and fat.
This is because each serving of tea includes L-Theanine and catechins which are said to do the job. 
What Are The Ingredients In Hyleys Slim Tea?
As we stated before, the ingredients within Hyleys Slim Tea are said to be naturally sourced.
This is because the brand believes that the tea ingredients should be from a natural source only, rather than chemically made.
This is certainly a bonus when it comes to tea. The last thing you will want to drink when it comes to weight loss is chemically made ingredients. So, what is in Hyleys Slim Tea?
Senna
The first thing to note is Senna. Senna leaves or extracts are used within Hyleys Slim Tea to produce a natural laxative effect. The brand claims the effect is gentle on the bowel, but consumers have had different reactions.
Senna has the ability to detoxify the body and cleanse it from within. It is also used to help keep the digestive system healthy. This is because it is used as a laxative to get rid of 'nasties' and to treat constipation.
Natural Fruit Flavoring
Natural fruit flavoring is also used in the teas to make them tasty. The choice of flavors is vast – from blueberries and mango to cranberry and pomegranate. There really is something for everyone.
Using natural flavoring once again means that no chemicals are added. There may also be some slight health benefits too, depending on which fruity tea is consumed.
Having said that, there is no evidence to suggest that there are any benefits to the natural flavoring within the tea.
Green Tea
Lastly, Hyleys Slim Tea includes green tea as the base. Green tea has lots of benefits, but it is also a natural source of caffeine. Despite this, the company states that it is best to drink the tea in the evening.
Green tea itself is rich in antioxidants and has anti-inflammatory properties too. So while it does include caffeine, it also has lots of health benefits too. 
Sugar-Free
The great thing about Hyleys Slim Tea is that every single one is free of sugar. There are absolutely no sweeteners added, apart from the natural flavoring.
The Hyleys Slim Teas are also gluten-free and non-GMO. This means that if you are on a gluten-free or sugar-free diet, you can drink Hyleys Slim Tea every day without any problems. 
Are There Side-Effects To Drinking Hyleys Slim Tea?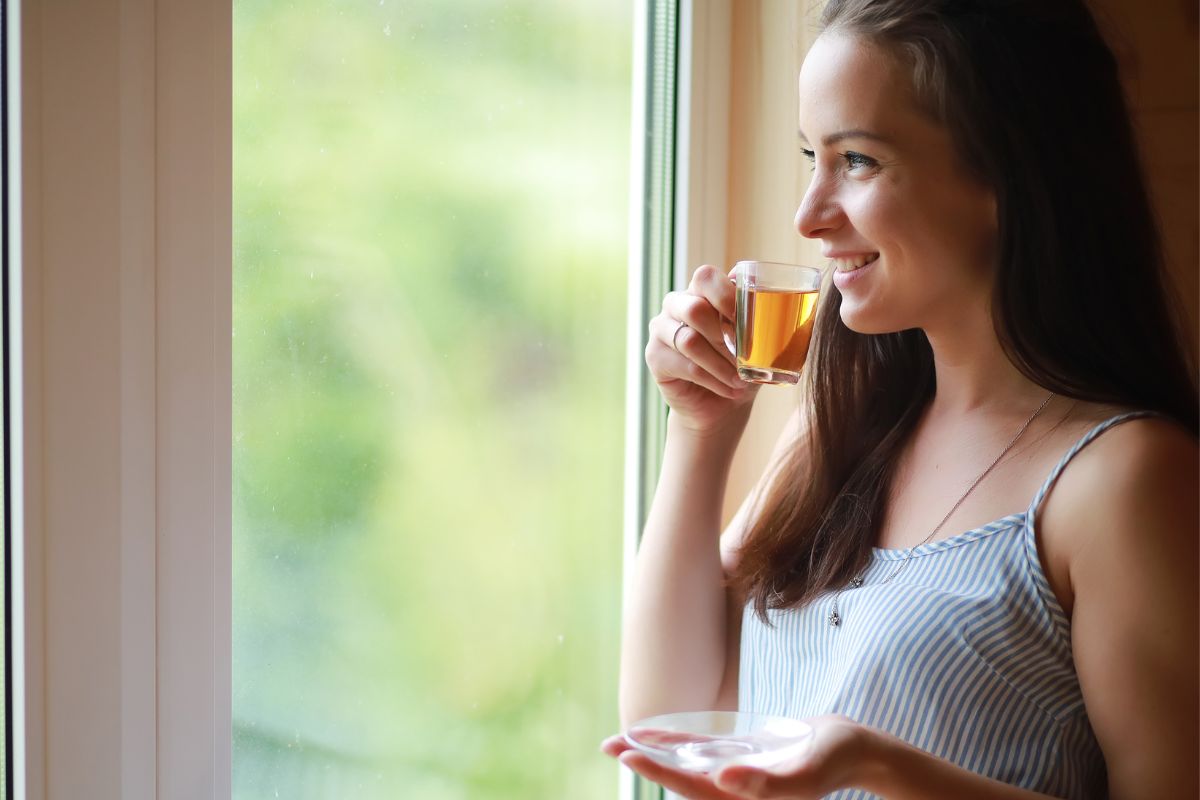 Whenever you drink teas that promote slimming, there is always a chance you may suffer from side effects.
This is because they include extra ingredients compared to regular tea. For this reason, the side effects need to be mentioned.
Hyleys Slim Tea includes an extract of the senna plant which can produce a laxative effect. Because of this, you increase your risk of suffering from diarrhea. You may also become dehydrated due to this.
So always drink water alongside this tea – but not necessarily at the same time!
It is also worth mentioning that some people are allergic to senna, so keep this in mind before drinking this tea. 
You may also suffer from stomach cramps, excessive gas, vomiting, and dizziness.
Also, drinking slimming tea on a long-term basis may cause you to have a faster heartbeat, especially if you drink it while having an empty stomach. 
However, this does not mean any of this will happen to you. It is always just best to be aware of what could happen. 
Are There People Who Should Avoid Drinking Hyleys Slim Tea?
There are a number of warnings that come written with the Hyleys Slim Tea box.
They are there to make the consumer aware of how to store the tea properly, whether there are people with medical conditions who shouldn't drink the tea, and what potential allergic reactions could happen.
Those who are currently breastfeeding, are pregnant, and take medication should always consult their doctor before drinking weight loss beverages like Hyleys Slim Tea. 
You may also want to be aware of potential allergic reactions, such as if you have an allergy to the senna plant. 
The tea should also be kept away from children and pets, as it is not suitable for them to consume. 
What Are Customers Saying About Hyleys Slim Tea?
With over 28,000 reviews on Amazon, a lot of people have tried Hyleys Slim Tea.
The brand has an average score of 4.5 stars out of 5, meaning that there are a lot of people who feel like the tea either works for them, or they enjoy the taste.
The top reviews were related to the value for money, the flavor, the scent, and the overall comfort of drinking hot tea. 
However, a lot of the reviews claim that it makes them need the toilet more – though people saw this as a positive – and that they feel less bloated, and that it can cause cramps. 
While this may look like a negative for this tea, the laxative effect is normal for weight loss teas.
Some people say the urgency of needing the toilet is what knocks a star off the review, while others state the flavor is better than some competitors. 
Quick Overview: Pros And Cons Of Hyleys Slim Tea
Pros
Includes lots of healthy antioxidants
Laxative effects may help with constipation
The above may help you to lose weight
Includes caffeine which may help with cognitive function throughout the day
Cons
You may need to go to the bathroom more than usual
Caffeine drinks aren't suitable to drink later in the day – may interrupt sleep
Benefits are only short-term
Final Thoughts – Is Hyleys Slim Tea Worth It?
Unfortunately, there aren't any scientific claims or studies to prove whether Hyleys Slim Tea can actually help you to lose weight. The only thing you can go by is the customer reviews themselves.
This is because there is also no evidence to suggest that senna itself can help you to lose weight.
It is also unsafe to consume senna on a long-term basis. For this reason, you will only want to drink the tea for a short period of time.
However, some consumers have noted that Hyleys Slim Tea has helped them to feel less bloated and constipated, which may be useful if you are suffering from mild constipation. 
Hyleys Slim Tea is available on Amazon.
Other Articles To Read
When Is The Best Time To Drink Detox Tea? – Detox tea may be extremely beneficial to your overall general health – but when exactly is the best time to drink it? We're going to tell you with this helpful guide!
What Is The Best Type of Tea – Red, Green Or Black – What Is The Best Type of Tea provides an easy-to-understand comparison of these 3 types of teas. Focusing on health, we discuss the benefits, differences…