If you're on the hunt for new protein bars to try, you probably came across Oh Yeah (Oh Yeah!) Bars, also called ONE Bars.
The name can be confusing, so here's a quick FYI: ONE Brands was formerly known as Oh Yeah! Nutrition. So, ONE protein bars are the new Oh Yeah Bars, with different packaging, but made by the same brand.
With that cleared up, are Oh Yeah ONE Bars any good?
Lucky for you, you've landed on our full review! 
I've tried ONE Bars first-hand (many flavors) and have provided my unbiased personal opinion in this review, which includes my thoughts on the nutritional value, taste, value for money, and availability. 
So if you're considering buying Oh Yeah ONE Bar bars, or just want to know what they have to offer, you'll find everything you need to know about them below.
`What Are Oh Yeah ONE Protein Bars?
If you're not familiar with Oh Yeah ONE Bars, then this section is for you. 
ONE Bars are the new rebranded products made by Oh Yeah! Nutrition is the former name of the company that's been around since 1999. 
And put simply, ONE Bars are protein bar.
So if you need to get more protein in your diet, build muscle, improve post-workout muscle recovery, or simply want to enjoy a chocolate bar that is more guilt-free than other chocolate bars, ONE Bars are worth checking out.
You might also be glad to know that ONE Bars come in a whole range of flavors. These flavors include:
Blueberry Cobbler
Maple Glazed Doughnut
Peanut Butter Cup
Almond Bliss
Chocolate Chip Cookie Dough
Birthday Cake
Cinnamon Roll
Lemon Cake
Peanut Butter Pie
Chocolate Brownie
Cookies & Creme
Smores
Rocky Road
Pumpkin Pie
And lots more – the list goes on. The bottom line is that there are a ton of flavors available with these protein bars, which is never a bad thing!
Oh Yeah ONE Bars Nutritional Value
Are ONE Bars nutritious? Let's take a look. ONE Bars come in a lot of flavors (as you saw above), but the majority of ONE Bars, which are 60 grams per bar, typically contain:
230 calories
23 grams of carbohydrates
9 grams of fat
1 gram of sugar
20 grams of protein
Those are your main macros. Aside from those, ONE Bars also typically contain:
5 grams of fiber
160 milligrams of sodium
119 milligrams of calcium
88 milligrams of potassium
114 milligrams of phosphorus
10 milligrams of cholesterol
ONE also makes a point of having no trans fat in its protein bars, which is really good to know (trans fat is a bad type of fat, which can basically wreak havoc with your cholesterol). 
Are ONE Bars High In Protein? 
Looking at the nutritional content (listed above), it's clear that ONE Bars are high in protein. You get 20 grams of protein per bar, which is a lot more than you get from other snack bars and energy bars.
It's also worth mentioning that 20 grams per bar is generally a good amount of protein to have in a protein bar.
Protein bars with more than 20 grams exist, but some people tend to shy away from them as the taste of the protein becomes more noticeable!
Are ONE Bars High In Calories? 
ONE Bars typically contain 230 calories per 60-gram bar. And, in general, that's a lot of calories for one snack bar.
This means that ONE Bars aren't the best choice if you're trying to lose weight, especially if you plan on eating them often.
On the other hand, though, the high amount of calories in ONE Bars can provide a good energy boost, which can benefit your workouts.
Calories can fuel your energy levels, after all, especially if consumed before intense exercise.
Are ONE Bars High In Carbs?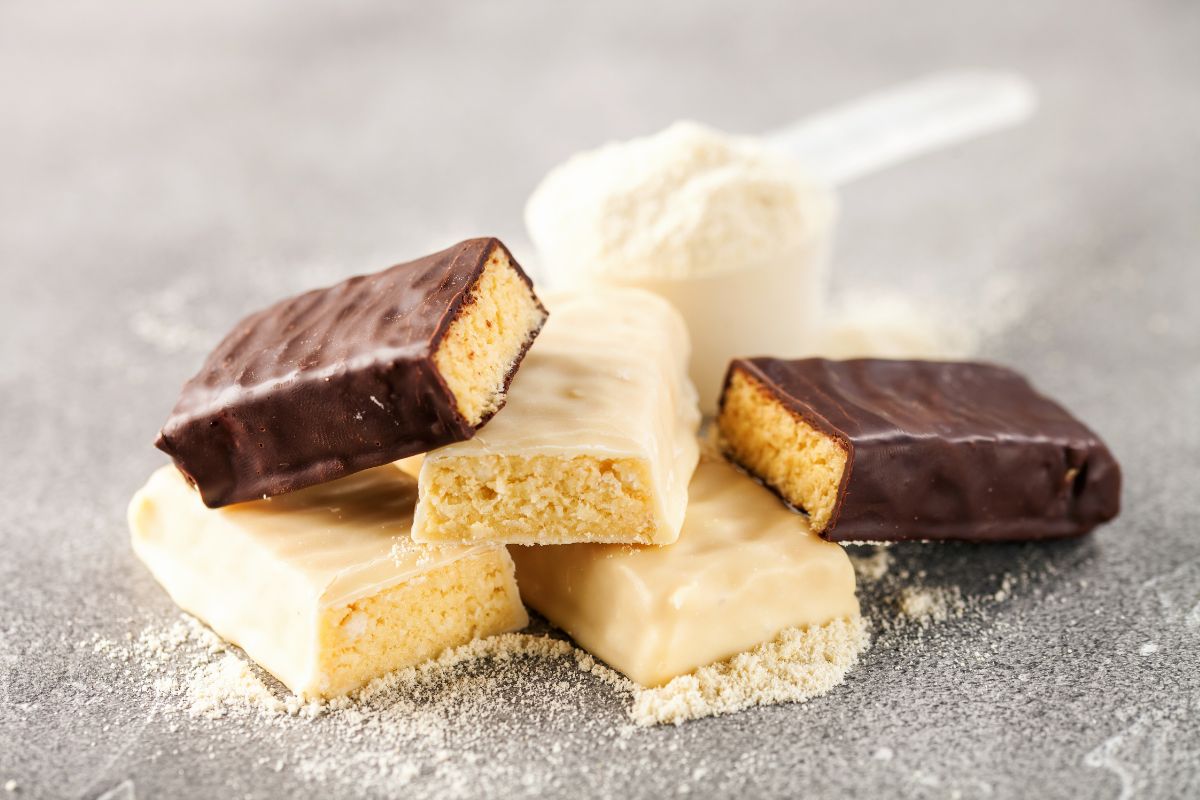 ONE Bars typically contain 23 grams of carbohydrates per 60-gram serving (one bar). Like the amount of calories in ONE Bars, the amount of carbs is quite high.
This can lead to fat gain in some cases, but can also improve workout performance.
Ask any runner and they'll tell you that fueling up on carbs is the key to improving endurance and stamina.
So if your workouts involve strenuous exercise performed for long periods, the high amount of carbohydrates in ONE Bars can also be a good thing.
Are ONE Bars High In Fat? 
ONE Bars typically contain 9 grams of fat per 60-gram bar, depending on the flavor.
In general, this isn't a lot and can be overlooked considering that ONE Bars include chocolate and other fatty ingredients to create the flavors.
It's worth mentioning that fat is also part of a healthy, well-balanced diet. You need fat to take advantage of various essential vitamins, like vitamin A, vitamin E, and vitamin D.
So as long as you're not eating ONE Bars for every meal, the fat content isn't that bad.
Are ONE Bars High In Sugar? 
ONE Bars contain 1 gram of sugar per bar. If that sounds like a low amount of sugar, it is!
Compared to most other store-bought chocolate bars, ONE Bars are very low in sugar, which makes them a great way to enjoy a sweet-tasting treat without the high sugar.
This also makes ONE Bars ideal for guilt-free snacking.
So even if you're not eating ONE Bars for the high protein content, the low amount of sugar makes ONE Bars well worth considering as an on-the-go snack, dessert, or craving killer.
ONE Bars Taste
ONE Bars come in so many different flavors that it's hard to pick a favorite. That's a good thing, though, and I can definitely say there'll be one flavor, or several flavors, that you'll enjoy. 
In my opinion, most ONE Bars accurately taste like the flavors they come in.
You get the subtle protein powder aftertaste (which is to be expected from a 20-gram protein bar), but this doesn't negatively affect the overall taste.
On top of that, ONE Bars have a nice, chewy texture – which isn't overly chewy. Other options like Almond Bliss and the peanut butter flavors have a crunchier texture, which also makes them enjoyable to snack on.
You might find some ONE Bars more sickly than others, like Chocolate Brownie, for example, but this will mainly come down to personal preference.
For the record (and if it helps you decide), my personal favorites are Cookies & Creme, Peanut Butter Cup, and Chocolate Chip Cookie Dough.
ONE Bars Value For Money
It has to be said that ONE Bars are cheaper when bought in boxes (the 12-packs), rather than buying individually.
ONE Bar 12 packs are priced between 24 and 30 dollars – which isn't too bad, to be honest, considering the great flavors, high protein content, and super low sugar. 
Still, it all depends on how many you'll eat on a regular basis. If, for example, you plan on eating one bar a day, then you're looking at spending at least 50 to 60 dollars per month.
Overall, ONE Bars offer great value if you're watching your weight and trying to increase your protein take. But if your budget is tight, you might want to look at other options, or at least try not to eat them often!
ONE Bars Availability
So how available are ONE Bars? You might be glad to know that ONE Bars are available to buy pretty much everywhere.
They're popular and widely available, so the only thing you really have to worry about is whether or not your favorite flavor is out of stock.
For that reason, ONE Bars get top marks for availability. You can readily buy them online as well as in most general stores!
Were Oh Yeah Bars Better Than ONE Bars?
Let's go there, shall we? Were Oh Yeah Bars, the company's former protein bar, better than ONE Bars?
Oh Yeah bars came in several flavors—like Chocolate & Caramel, Almond Fudge Brownie, Cookie Caramel, and Peanut Butter & Caramel—and were known for having a high amount of protein – around 27 to 30 grams of protein per bar.
On top of that, Oh Yeah bars were also high in calories, carbohydrates, and fat. We're talking 350–380 calories, 30 grams of carbs, and 19 grams of fat.
As a result, Oh Yeah Bars, the former ONE Bar, were more like "mass gainer" bars than protein bars!
So if your goal is putting on as much mass as possible (for weight gain or powerlifting, for example), Oh Yeah Bars would have been right up your alley. 
But, unfortunately, they're not available to buy anymore. 
On the plus side, ONE Bars are generally more healthier than Oh Yeah Bars, despite the lower protein content (20 grams per bar), as they contain fewer calories, carbs, and fat.
Conclusion
To summarize, should you eat Oh Yeah ONE Bars?
Overall, I definitely recommend ONE Bars if you want a convenient way to increase your protein intake or cut down on sugar while still being able to satisfy your chocolate cravings.
ONE Bars are also a great pre-workout snack thanks to their high calories and carbs. If you're trying to lose weight, though, just make sure to eat them in moderation.
Other great points for ONE Bars include the range of flavors that all taste great (and accurate) and their availability, as they can be readily bought online and in-store.
Find your favorite flavor with a variety pack from Amazon.
As for the price, I'd say it's worth it, simply because health is wealth!
Other Articles To Read
How To Choose A Healthy Weight Loss Plan – What do you consider a healthy weight loss plan or an unhealthy plan? There is much to consider before starting a diet. Starting a diet can be confusing…
What Is The Healthiest Shake You Can Have? – Are you curious about which shake is the healthiest you can have? If this is a question that you have, read this article to learn everything you need to know.