Acai berries have been a topic of discussion for several years. They can be found in drinks, powders, and all kinds of supplements.
Acai is considered a superfood due to its high antioxidant properties. I am going to discuss what are acai berries, what are acai berries' nutrition values, acai berries health benefits, acai berry side effects, and then you can decide are acai berries good for you.
What are acai berries?
Acai berries are small round deep purple fruits that grow on a type of palm tree. These trees produce a fruit that is similar in size to a grape and looks similar to a blueberry.
They are grown in the swamp areas and wetlands of mainly South America, primarily in the Amazon region. Some are now being grown in Florida.
The botanical name is Euterpe Oleracea.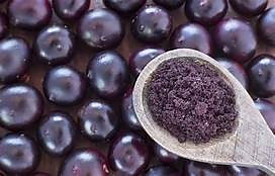 Acai Berries Nutrition Facts
According to the USDA 1.5 tsp/3g of organic acai powder contain:
120 calories
0 mg sodium
1.5g total fat
1g carbohydrates
0g sugar
1g fiber
6mg calcium
33mg Potassium, K
They are rich in fatty acids, which include oleic, palmitic, and linoleic acids.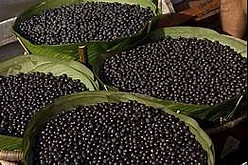 Acai Berries Health Benefits
One of the riches in antioxidants that can help with a large range of health benefits and disease prevention. One antioxidant, anthocyanin may lower oxidative stress and inflammation, promoting brain health. (Medical News Today)
A 2008 double-blind study showed that acai had positive effects on the immune system due to its antioxidants and oxygen radical absorbance capacity (ORAC). (Academia.edu)
A 2004 study at the University of Florida showed how acai was used to kill human cultured cancer cells. (University of Florida)
A preliminary study suggested that eating acai fruit pulp might reduce blood sugar and cholesterol levels in overweight people. (NCCIH)
A 2011 uncontrolled pilot study showed that there were reductions in fasting glucose and insulin levels following a 30-day treatment. There was also a reduction in total cholesterol, as well as borderline significant reductions in LDL-cholesterol and the ratio of total cholesterol to HDL-cholesterol. This study does show promise and further studies will need to be conducted. (NCBI)
Acai has been shown to suppress the signaling pathways in a cultured mast cell line of rat basophilic leukemia cells. (NCBI)
Amazon natives use acai for diarrhea, parasitic infections, hemorrhages, ulcers, and fever.
Peruvian's use the root for menstrual pain, liver diseases, and malaria. (nutrition and you)
Acai Berry Side Effects
Consuming acai might affect MRI test results. If you use acai products and are scheduled for an MRI, check with your health care provider. (NCCIH)
Acai is usually safe to consume. But avoid acai if you're pregnant or breast-feeding because there's insufficient information on its safety for women who are pregnant or breast-feeding. (Mayo Clinic)
Acai may aggravate or irritate hypertension, edema, or gastrointestinal disorders. (Natural Standard Herb & Supplement Guide: An Evidence-Based Reference 2010)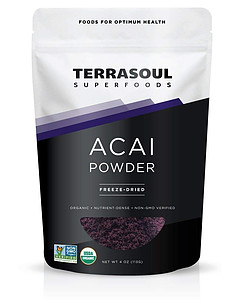 Medical Claims
Most of the hype is centered around weight loss. I have found no compelling evidence that acai berries alone can help you lose weight.
It does appear to have some benefits when combined with a proper diet and some exercise.
"Acai has been sold as a dietary supplement for conditions like high cholesterol, heart problems, allergies, and cancer. These uses of acai are unproven." (WebMD)
"Many products labeled açaı́ are presently marketed as natural supplements with various claimed health benefits. Authentic açaı́ is expensive; as a result, numerous products labeled as containing açaı́ are being sold that actually contain little or no açaı́". (Journal of Agricultural and Food Chemistry)
Final Thoughts
Although there have been a lot of claims made as to the benefits of acai berries, there have not been enough scientific studies conducted on them. Some preliminary studies have shown promise in specific areas, but there need to be additional studies are done and clinical trials to verify many of the claims made.
As always, do your own research, then talk to your doctor about any concerns that you have before taking any supplements. Some supplements can have adverse effects, while others may increase the potency of some medications.
Other articles you may find interesting
What Are The Superfoods – A Dieter's Dream
Acai Berry Cleanse – Fat Burn Cleanse Are they worth it?
Terrasoul Superfoods Acai Berry Powder – Great Food From A Great Source
Here is a PIN you can share with your friends on Pinterest: