Navitas Organics has been around since 2003 and has quickly become a well-known brand for quality organic products. These are very reasonably priced and cover a wide range. There are single ingredient superfoods products to nicely blended combinations. They produce powders, juices, bars, books, etc…
The company stands on a 4-pillar philosophy: healthy, socially responsible, innovative, and quality driven. I will only be able to cover a few of their products here and will provide links for additional information or where to purchase.
Product: Navitas Organics Products
Where to buy: Amazon can select one-time purchases or discounts available if you subscribe for deliveries from every month to 6 months. Amazon does have the best prices that I have seen, but if you need it today, some Navitas Organics products are available at a few select stores.
Why Navitas
Zach Adelman founded Navitas in 2003. Navitas is Latin for energy and they live up to their name by sourcing their ingredients from local farmers in various countries. They produce over 60 products that support a healthy lifestyle.
Their products are:
Organic – no pesticides, fertilizers, or genetically modified organisms
Nutrient-Dense – products contain higher levels of vitamins and minerals per calorie making them some healthiest foods on the planet
Holistic – foods have a positive impact on the mind, body, and soul
Energizing – products have a transformative effect on metabolism, moods, and energy levels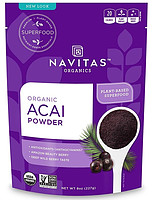 Navitas Organics Acai Powder
Navitas Organics sources their acai berries from the Amazon Rainforest region. Acai is known for its super oxidant, fiber, and omega 3, 6, and fats. Great in smoothies, sprinkle on cereal, oatmeal, or yogurt. The powder is freeze-dried to preserve its flavor.
Acai powder is sold in 4oz or 8oz bags and has a rating of 4.2 out of 5 stars with 251 reviews.
Most reviews seem to enjoy the Navitas' acai flavor and texture, but others do not. It comes down to personal preference, especially if you are used to another brand. When I tried it, it was more of a soft grainy substance, but I like the taste and it did give me lasting energy that I have not had from a smoothie before.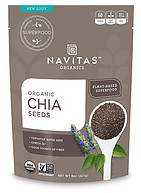 Navitas Organics Chia Powder
Navitas sources its Chia from Mexico. Chia is loaded with omega 3 fatty acids, protein, antioxidants, magnesium, calcium, iron, and fiber. This was originally cultivated by the Aztecs, Incas, and Mayans. Chia is the Mayan word for strength.
Navitas Chia comes in a powder or seed. Both are available in 8oz or 16oz bags. 4.6 out of 5 stars with over 1,000 reviews.
My daughter makes snacks with peanut butter, protein powder, dark chocolate, flax, and chia seeds. They are good and now I am hooked on them.
Navitas Organics Cacao Powder
Navitas cacao powder is made from low-temperature dried and cold-pressed organic, Fair Trade certified cacao beans. They provide 25% DV magnesium, 10% DV iron, and 18% DV fiber per 2.5 tsp. The organic powder is a healthier alternative to regular cacao powers and can be used in the same ways.
Navitas cacao comes in bags of 8oz or 16oz for powder and 4oz, 8oz, or 16oz for nibs. 4.2 out of 5 stars with over 2,100 reviews. Some comments mentioned the level of cadmium based on a consumer lab report. Navitas' response to California prop 65 can be found here.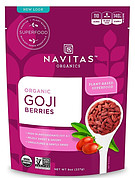 Navitas Organics Goji
Goji's are sourced from the Ningxia Province in China and has a taste between a cherry and raisin. They are antioxidant-packed with protein and over 20 vitamins and minerals. These can be used in smoothies, desserts, cereal, and dressings.
The powder comes in 4oz or 8oz bags and the berries come in 8oz or 16oz bags. 4.0 out of 5 stars with over 1,300 reviews. Most reviews are favorable, but there are a few that mention issues with the packaging.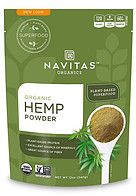 Navitas Organics Hemp
Hemp is a product of Canada. It is an excellent source of omega 3 and 6 fatty acids in a 3 to 1 ratio, which helps keep the body in balance.
This is one of the few naturally occurring complete protein sources in plants. Full of antioxidants, minerals, and iron. It contains all 9 essential amino acids in a form that is easy for the body to digest. Also, a good source of fiber.
Nice thing about this species of hemp, you will not fail a drug test because of it.
4.4 out of 5 stars with over 300 reviews. The powder is available in 12oz bags and the seeds are available in 3 different sizes. If you read the reviews, you will find many uses for hemp seed. They are being used as salad and pasta toppers to being put into smoothies.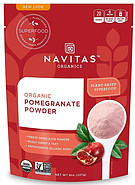 Navitas Organics Pomegranate Powder
Pomegranates are a naturally sweet and tangy fruit that are rich in antioxidants. Navitas are grown in India on shrubs that can live over 200 years.
The ripe juice and seeds are freeze-dried to preserve freshness and nutritional values. The powder can be mixed into smoothies, fruit juices, tea, or a variety of other ways.
4 out of 5 stars with over 270 reviews. The powder comes in either a 4oz or 8oz bag. There have been a few comments that the powder really isn't a powder, but more like a grainy substance. It may not mix well without a blender.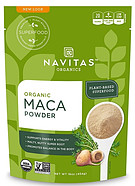 Navitas Organics Maca powder
Maca is a super-root that is known as Peruvian ginseng. This is rich in fiber, a good source of plant protein, provides amino acids, minerals, and alkaloids.
Maca helps to keep the body balanced and has been known to relieve stress and anxiety. It is also known to increase your energy level without the crashes from caffeine or sugars.
4.3 out of 5 stars with over 800 reviews. Both the powder and gelatinized come in 4oz, 8oz, or 1-pound bags. Enjoy in a smoothie, yogurt, or a variety of recipes.
While some enjoy the taste, raw maca can be bitter and may be difficult to digest. There are many ways to use this in baking recipes that will help to reduce the bitterness and make it easier to digest.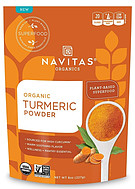 Navitas Organics Tumeric Powder
Turmeric Powder is one of Navitas' newer products and there are not enough reviews on this one.
This is one of those ancient superfoods that has been used to treat inflammation, improve digestion, immunity, and support whole-body health.
The turmeric powder can be added to smoothies, golden milk lattes, curries, and a variety of other recipes. These are available in a 8oz bag.
Why Navitas?
Minimally processed – foods are pure, clean, and maintain their nutritional integrity
Certified – products are certified organic, non-GMO, kosher and gluten-free
Wholesome – plant-based foods bring vitality and positively to every aspect of daily life
Consciously sourced – suppliers are vetted to determine the highest quality of products to represent their brand
Final Thoughts
Navitas Organics has been producing quality products since 2003 and has built a solid reputation for producing quality products. I have only tried the acai and maca powders so far, but plan on trying some other products as well.
Please do your research on any supplements that you are thinking about taking, then talk to your doctor. Give them all the information that you have found and make sure the supplement will not interact negatively with any medication you are currently taking.
Click here for more information or to purchase
When you do try it, or if you already have, please leave a comment here to help others know what your experience was. Good or bad.
Here is a PIN you can share with your friends on Pinterest: