There is nothing much better than the perfect iced drink from your favorite coffee shop.
But sometimes, we don't have the time or money to go and grab one, and instead, we have to simply try and ignore the craving.
But, what if I told you there is a way that you can recreate your favorite frozen drinks from the comfort of your own home?
That's right, you can save time and money by investing in your very own blender so you can make drinks in your kitchen!
The idea is simple but then you are faced with another problem – how do you know which blender will be the best for you to buy?
Well, that's where we come in!
In this article, we have researched and curated a list of the top five best blenders for frozen drinks.
We also created a helpful and insightful buyer's guide so that you know exactly what you should look for when it comes to buying a blender!
So, what are we waiting for? Let's get into it!
Here are some of the best blenders for frozen drinks available to you today…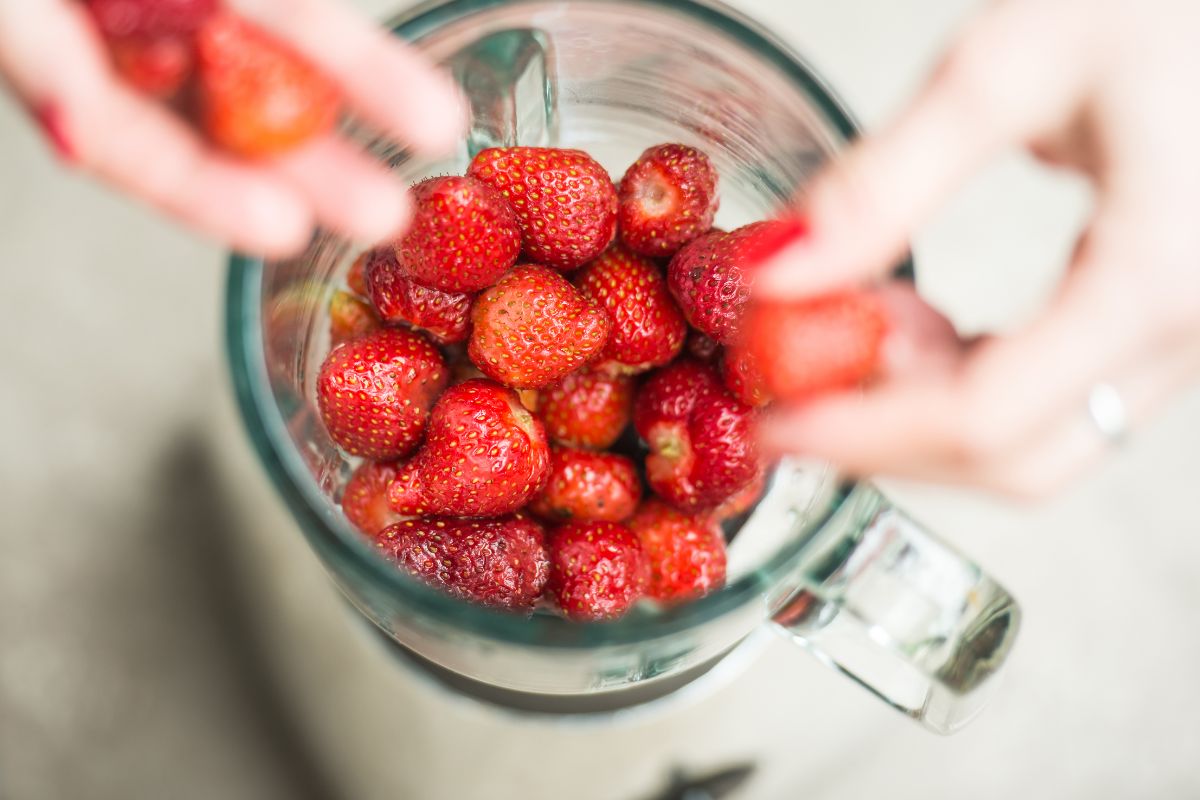 Ninja blenders are one of the top brands on the market today!
The BL660 is a compact blender that has been designed specifically for creating the best juices and frozen drinks.
With an 1100-watt motor power, the blender can blitz through most ingredients to create smooth and delicious smoothies easily!
The blender also has three different speed settings so that you are in total control of the blender.
One of the best parts about this blender is the on-the-go convenience that it provides – it comes with a 16-oz cup that can be directly blended into so that you can blend and go without having to transfer between different cups!
Not only this, but the BL660 is incredibly easy to clean. All parts of the product are dishwasher-safe and BPA-free.
When you buy the product you will receive 1100 Watt motor base, 72 oz total crushing pitcher with lid, stacked blade assembly, 2 16 oz to-go cups, 2 spout lids, pro extractor blades assembly, and a 28 Recipe Inspiration guide.
Pros
Ultimate Power: 1100 Watt motor
Versatile functions
XL Capacity
Easy to clean
On-the-go convenience
Cons
Customers report that it is relatively fragile
Also available at Amazon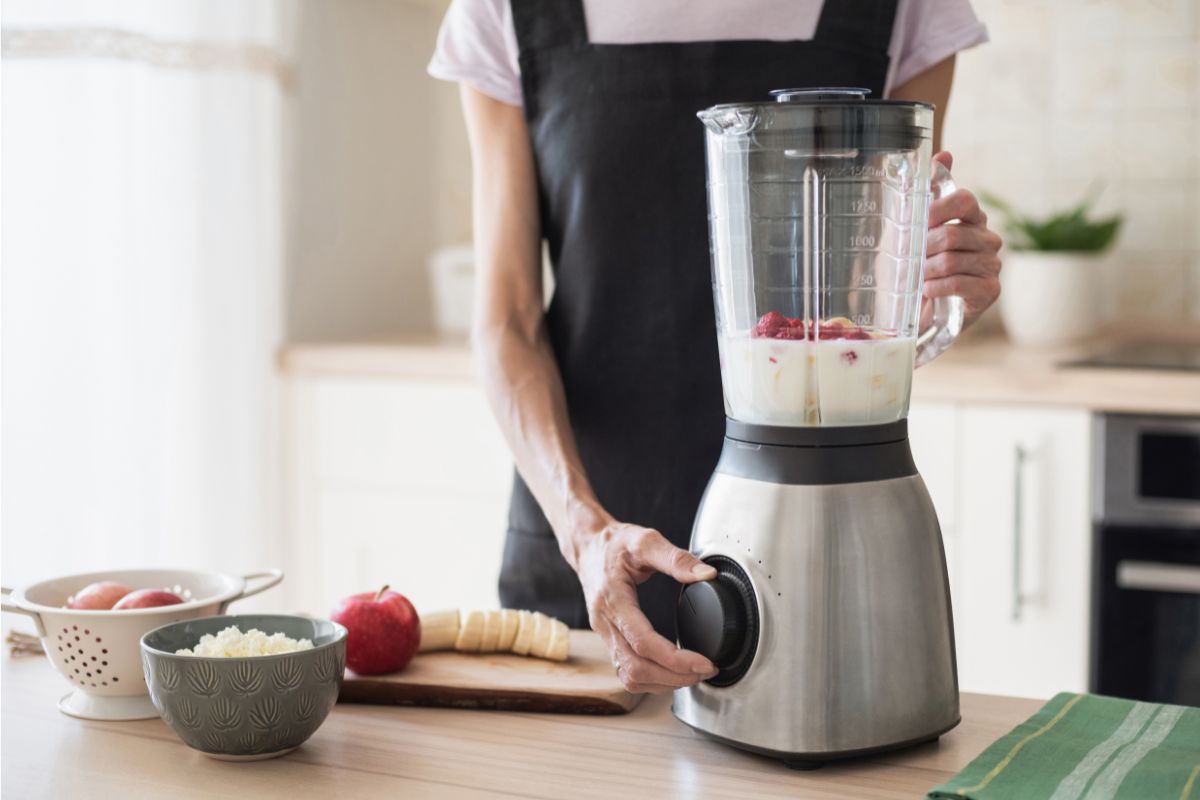 The next blender we are recommending to you today is another one from Ninja!
As we mentioned before, Ninja is an incredibly popular brand when it comes to blenders.
This time we are talking about the NJ601AMZ. This is a slightly less expensive version of the blender we mentioned above.
It comes with fewer products than the BL6600, But that doesn't mean that it doesn't have fantastic features of its own.
To begin with, the blender has a powerful motor base of 1000 watts.
The XL capacity of the blender means it can hold up to 72 oz of liquid which is perfect if you wanted to make a batch of drinks for the whole family.
Ice and ingredients will turn to a liquid consistency in seconds with this blender.
Included with this product includes a 1000-watt motor base, a 72 oz Pitcher with a pour spout, 64 oz max liquid capacity, total crushing blades, and a 10 Recipe inspiration guide.
This blender is BPA-free and safe to put in the dishwasher!
This is a great option for those of you who want a blender that can make drinks for the whole family.
Pros
Professional Technology – 1000-watt motor base, total crushing blades
Easy to clean
XL blending capacity
Cons
Doesn't come with an on-the-go cup attachment
Also available at Amazon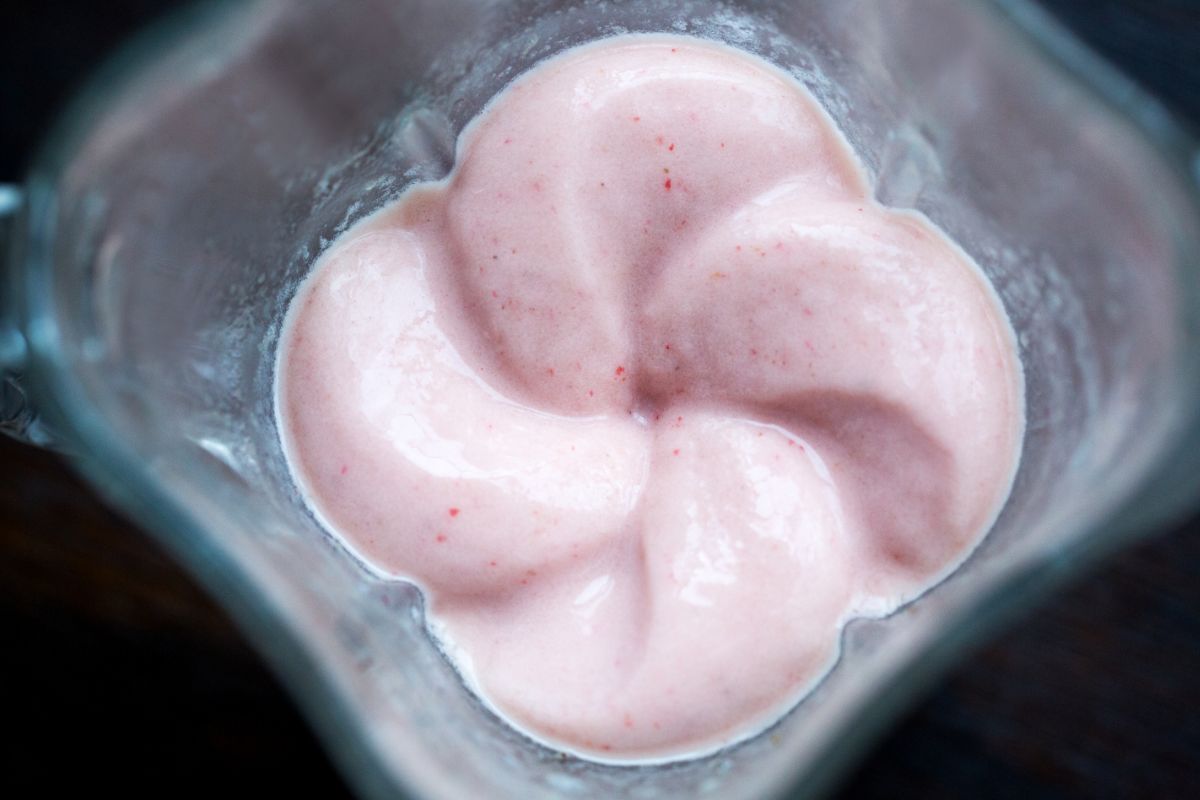 The next blender we are going to talk to you about is brought to you by the company Anthter.
This blender has a 950-watt motor power base which helps to blend ingredients and ice into a smooth texture perfect for frozen drinks, smoothies, soups, and more.
There are four different speeds that you can use to handle any job and to give you total control over the product when you are using it.
The blender uses a 4-tip Quadpro blade made from stainless steel which helps to break foods and ingredients with ease.
This blender has multiple uses from juicing to grinding, to iced smoothies.
One of the best parts about this particular blender is that it is super easy to pour your mixture out due to the handle attached to the jar.
The jar itself is made of thick and sturdy glass and holds 500z. The spout of the jar is molded specifically for easy pouring.
The product is BPA-free and easy to clean due to its self-cleaning function which is super easy to follow, and instructions are included with the product when you receive it.
Pros
BPA Free and easy to clean
1.5L Perfect Pour Glass Jar
High Tech – 4-Tip Quadpro blade and 950W motorbase
Cons
Doesn't come with a to-go cup attachment
Also available at Amazon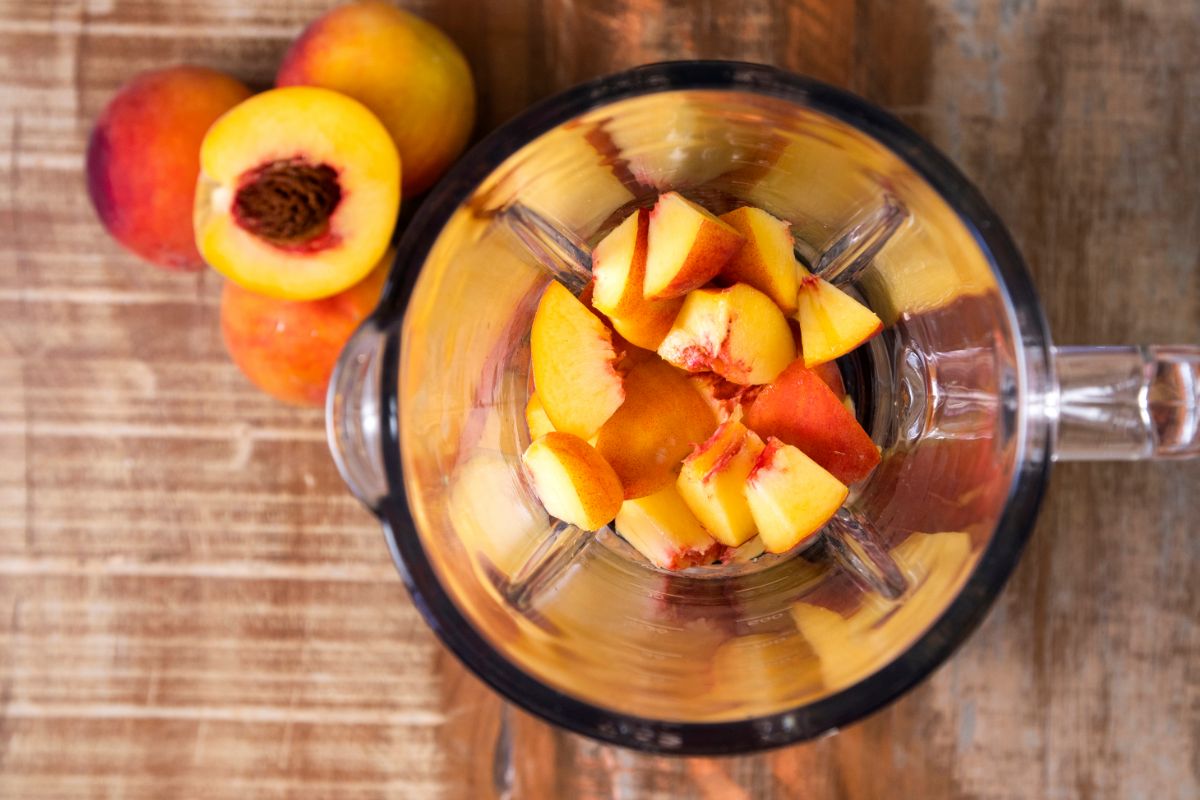 The next blender we have to talk to you about is the WantJoin professional blender!
This is a professional-level blender that fits for use in the home.
With a max power of 1800 Watts, this blender can easily slice through all kinds of ingredients and leave you with a professional-level drink.
The blender features many different switches and buttons that allow you to change the speed of the blender so that you are in total control when creating your drink and blending ingredients.
The blender even has its controller timer making it super safe to use and will automatically stop after the time you set it.
When you buy this blender you will receive a motor base, 2L PC container with a rubber handle, a manual guide, and a tamper.
Pros
High Tech
Professional-level product for the home
Easy to use
Cons
Doesn't come with a to-go cup attachment
Also available at Amazon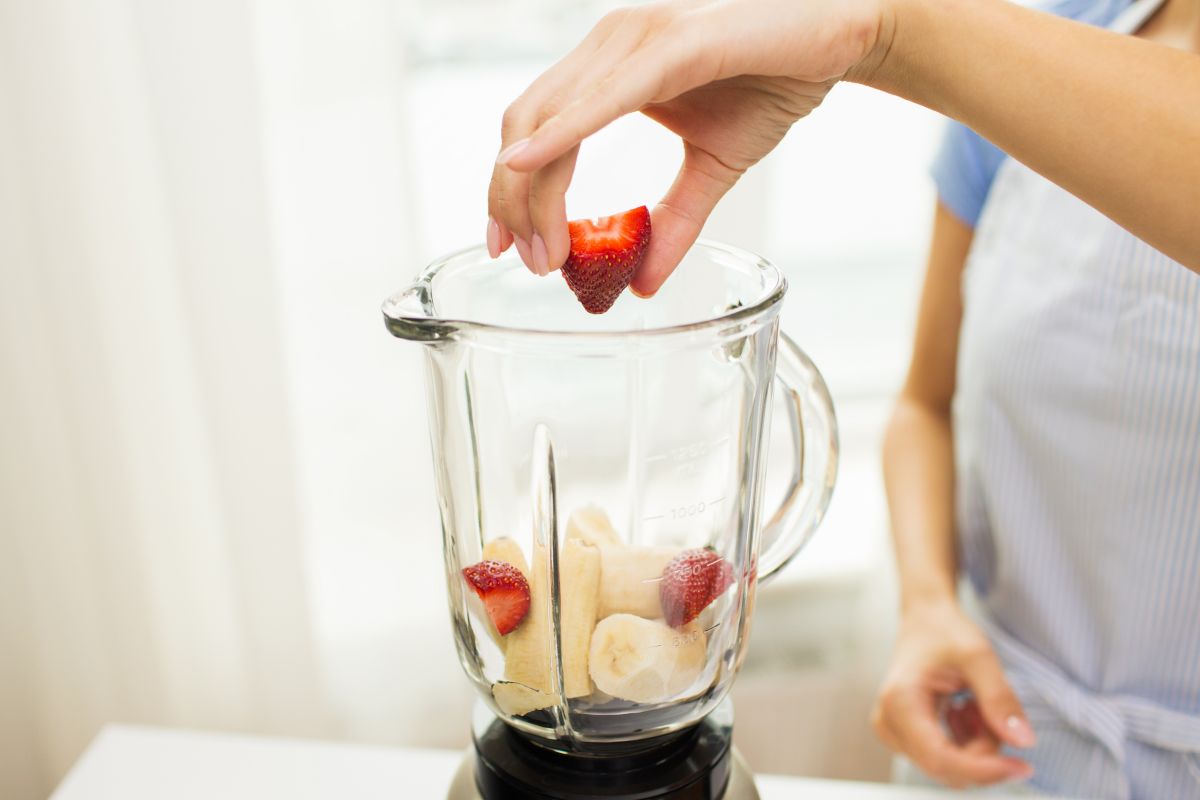 The last blender we have to recommend for you today is the personal blender by nutribullet.
Nutribullet is growing incredibly popular as a blender brand and is well known for its reliable, affordable, and compact products – and this blender is no different!
This blender makes smoothies, frozen drinks, soups, and more in seconds with its 600-watt motor base and refined extraction blades that help to slice through the ingredients at top speed.
The blender is BPA-free and super easy to clean and maintain and features a twist-off blade that needs simply to be rinsed with soap and water, while the cups can be washed through the dishwasher.
This is another great recommendation if you are looking out for a blender that comes with a to-go function, meaning that you can blend your drink directly into the cup and take it with you!
Including when you buy this product is: a 600-watt motor base, an Extractor Blade, 24 oz cup, 1 to-go lid, 1 lip ring, and a recipe book.
Pros
Small Compact and portable
Super fast and High Tech
Easy to clean
Cons
Cannot use it to make larger portions of the drink
Also available at Amazon
Best Blender For Frozen Drinks Buyer's Guide
Now that we have shown you our best recommendations for blenders for iced drinks, it is time to talk you through what you should be looking for and consider when you are on the hunt for a new blender.
So let's get into it, shall we?
Budget
The very first, and arguably most important, thing to consider when looking to buy a blender is your budget and how much money you have to spend.
Once you have figured out the maximum amount you are willing to spend on a product then you will be able to narrow down your searches and get the best product for your money.
There are many different blenders available on the market and all are at different price points.
You will want to figure out exactly what you will use your blender for – is it just for yourself?
Or will it be used to create family portions? The larger the blender and the more features that it has, the more expensive it is likely to be.
That being said, some blenders have overly fancy features and an over-the-top price to match – to avoid falling into buying a blender like this, you should look for blenders that have the functions that you need specifically.
This may help you to find a cheaper option that allows you to do exactly what you want, rather than having a more expensive blender (because it is 'better') that has an array of functions that you never use.
Blender prices can range so it is important that you look for the best deal.
Try looking across many different websites and stores to find the very best deal for the blender that you are after.
Power
Another feature that is important to consider is the power of your blender.
Blenders with higher power tend to be more expensive – if you only want your blender for frozen drinks, the power doesn't have to be high, thus meaning you would probably get away with buying a cheaper blender.
When it comes to power with blenders, it is referring to how powerful the motor base is.
Blenders with more power are able to cut thicker and harder ingredients at a faster speed.
If you only want to use your blender for iced drinks, you can use one with a lower level of power.
Size And Capacity
Another thing good to consider before making your purchase is what you are going to be using the blender for.
Will you be making single portions or larger portions for your whole family?
Depending on what your answer will change what blender you need to buy in terms of its size and capacity.
Capacity refers to how much liquid it holds.
If you know you are going to need to make bigger batches then you are going to want a blender than holds a higher level of liquid.
If you get a smaller blender then you may have to keep repeating the same drink as it won't be able to create enough drink in one go.
You will also want to think about how much space you have to store the blender.
Do you want to keep it on your kitchen side? Do you have enough space on your countertops?
Or would you keep it under your cupboards?
You should always look at the measurements of the product you are buying before you make the purchase – there's not much worse than being excited about your new blender than realizing you have nowhere to put it!
Frequently Asked Questions
Can You Make A Frozen Drink In A Blender?
It is super easy to make a frozen drink using a blender!
Simply crush ice and add it to your drink of choice, and you are good to go!
In fact, blenders are the best way to create frozen drinks at home.
Does Putting Ice In Blender Damage It?
Putting ice cubes in a blender can dull the blade, however the higher the power of the blender the less likely it is that will happen.
In most cases, it is safe to put chunks of ice in a blender.
It is the same for any other ingredient such as fruit – big pieces are more likely to damage or dull the blade.
Why Is My Blender Not Blending Ice?
Your blender may malfunction if you add too many ingredients at once.
Instead, you should add them piece by piece so that nothing gets caught in the blades.
You should also make sure that everything you add isn't too large because large pieces of fruit or ice can become stuck in or under the blade and cause it to stop working.
Should You Put Ice First In The Blender?
The first ingredients you should put inside your blender are the softer and more moist ingredients such as milk, yogurt or fruit juice, etc.
This is because it will help prevent any larger and firmer pieces from getting stuck in or under the blades.
Your hard and solid foods such as ice, frozen fruits, vegetables, nuts, etc. should be placed last.
This will ensure that you are left with a smooth and delicious mixture that hasn't broken your blender or dulled the blade!
Can Blender Blades Break?
Yes. Blender blades can crack and break resulting in lumpy smoothies and the blender not performing properly.
Things that can break blenders include hard ingredients such as frozen fruits and vegetables.
Not only this but items such as large pieces of ice can also break the blade.
These types of ingredients can also dull the blade very easily and quickly.
Final Thoughts
So, that is the best blender that we have found for you today!
If you are big into creating your own frozen drinks then investing in a blender is certainly the best thing for you to do!
There are so many advantages to having your blender create iced drinks because it will not only save you money but is much more convenient for you as well.
For example, you wouldn't have to make a trip out to your local cafe in order to get your drink because you can just make your own version at home!
This is also going to save you those precious dollars that we all spend unnecessarily on drinks every month!
Hopefully, this has been a helpful article for you and you now know exactly what type of blender will be best for you.
Always remember to reference the buyer's guide that we have supplied to ensure that you are going to find the best blender for your personal use and that you have considered all the factors relevant to you.
There are many different options available to you each ranging in price and different features, so you are sure to find one that suits your specific needs!
If you want a blender for yourself then your best bet is the Nutribullet blender as it is small, compact and you can create drinks to-go, whereas if you want to create drinks for your whole family you are going to want a blender with a larger drink capacity so that you can make larger portions to share around!
Other articles to read